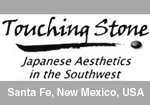 Linelle Dickinson
Tracing the Lifeline*
Aug. 13 - Sept. 15, 2004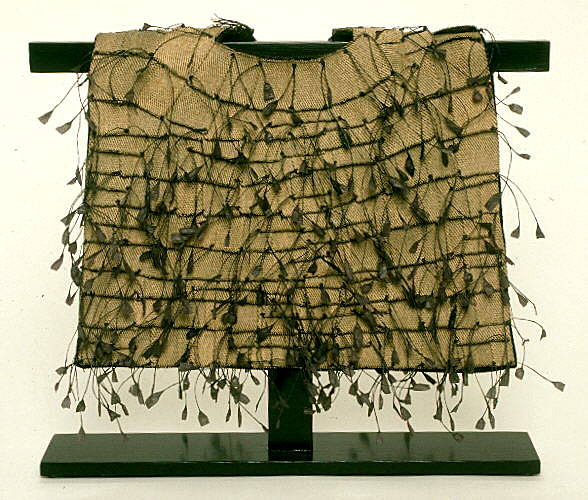 * In conjunction with her show at Touching Stone Gallery, Ms. Dickinson will present a lecture at 6 pm. on August 14
at the Santa Fe Woman's Club auditorium . This lecture, entitled "Tracing the Lifeline", is sponsored by
the Santa Fe-Japan Art & Culture Exchange Program (SFJACEP)
Linelle Dickinsonís shifu art
Shifu was created by weaving cloth from threads of paper sometime in 16th-century Japan as a means for peasants to clothe themselves. Much of the early knowledge was passed down by word of mouth until the early 17th century, when samurai families started to produce shifu as apparel as well as a commodity. This art form died out in the late 19th century. It was resurrected briefly after World War I, only to decline again during World War II. Today, there are only a handful of shifu artists in Japan, which makes Linelle Dickinsonís work even more remarkable.
Dickinsonís fascination with Asian art began early in her life. Her maternal grandparents went to China as missionaries from 1920 until the Second World War. They raised seven children, including Linelleís mother Pauline, in Shou Yang, some 250 miles southwest of Peking. Years later, the artifacts they brought back to America - silk garments, tiny shoes for women with bound feet - would fascinate and inspire their granddaughter, conjuring up magical adventures in far away, exotic places, and subtly influencing her aesthetic development.
Dickinson first learned about Shifu in a papermaking class at the School of the Art Institute of Chicago. Her instructor, Marilyn Sward, showed her a scrapbook of papers from all over the world, including a sheet of kozo paper and a sample of kozo paper thread from Japan. Linelle learned that similar paper thread was used to make clothing 500 years ago in Japan. That tiny thread of paper proved pivotal for Dickinson. From that point she focused much of her creative energy to using this unique material to express her artistic visions. She learned to turn paper into thread, and weave the thread into paper cloth on her loom. With this medium, she began to create meticulously conceived and visually stunning sculptural art, gaining acclaims for her artistry and creativity.
Dickinsonís works often contain Oriental design elements that seek to connect with the interesting and at times harrowing paths chosen her maternal grandparents. The current show "Tracing the Lifeline" brings that connection into focus. Was it fate that led her grandparents to the Orient, and was it luck that protected them from harm during the War? With tiny threads of paper, Dickinson seems to have woven these questions into dramatic testaments that intertwine her ancestral paths with her own.
Click on images to view selected pieces
Call 505-988-8072 or use inquiry form for price/information
Twins 4

1"W x 27"L x 2"D

1st layer: paper thread weft, cotton thread warp, dyed, protective lacquer; 2nd layer: paper thread weft,

cotton thread warp, dyed, protective lacquer, hand woven, assembled, stitched, laced

Display: natural bamboo rod & fixtures

Black Tie 16"W x 14"H x 3"D Sold

1st layer: paper thread weft, cotton thread warp, dyed, protective lacquer

dyed, hand woven, assembled, stitched, pierced, knotted

2nd layer: paper thread weft, cotton thread warp, dyed, hand woven, stitched

Display stand: lacquered wood 17"W x 14.5"H x 3"D

Bulwark 15"W x 12"H x 3"D

1st layer: paper thread weft, cotton thread warp, dyed, protective lacquer

dyed, hand woven, assembled, stitched, pierced, knotted

2nd layer: paper thread weft, cotton thread warp, dyed, hand woven, stitched

Display stand: lacquered wood 17.75"W x 11.5"H x 3"D

Tracing the Lifeline 15"W x 17"L x 3"D Sold

1st layer: paper thread weft, cotton thread warp, dyed, protective lacquer

dyed, hand woven, assembled, stitched, pierced, knotted

2nd layer: paper thread weft, cotton thread warp, dyed, hand woven, stitched

Display: Natural bamboo rod & fixtures

Tutu 15"W x 1"L x 3"D Sold

1st layer: paper thread weft, cotton thread warp, dyed, protective lacquer

dyed, hand woven, assembled, stitched, pierced, knotted

2nd layer: paper thread weft, cotton thread warp, dyed, hand woven, stitched

Display: Natural bamboo rod & fixtures

Life Preserve B 12"W x 12"H x 5"D

1st layer: abaca & cotton linters papers, paper thread, dyed, pigments,

polyurethane paper making, assembled, stitched, pierced, knotted

2nd layer: paper thread weft, cotton thread warp, dyed, hand woven, stitched

Display stand: lacquered wood 15.5"W x 12.5"H x 3"D

Life Preserve G

20"W x 15"H x 5"D

1st layer: abaca & cotton linters papers, paper thread, dyed, pigments,

polyurethane paper making, assembled, stitched, pierced, knotted

2nd layer: paper thread weft, cotton thread warp, dyed, hand woven, stitched

Display stand: lacquered wood

23"W x 15"H x 3"D

Life Preserve H 13.5"W x 19"H x 6"D

1st layer: abaca & cotton linters papers, paper thread, dyed, pigments,

polyurethane paper making, assembled, stitched, pierced, knotted

2nd layer: paper thread weft, cotton thread warp, dyed, hand woven, stitched

Display stand: lacquered wood 13.5"W x 18"H x 3"D

Life Preserve R/P 13.5"W x

21"H x 6"D

1st layer: abaca & cotton linters papers, paper thread, dyed, pigments,

polyurethane paper making, assembled, stitched, pierced, knotted

2nd layer: paper thread weft, cotton thread warp, dyed, hand woven, stitched

Display stand: lacquered wood 13.5"W x

20"H x 3"D

Vest Plate (VPA) 16"W x 27"L x 2"D

1st layer: paper thread weft, cotton thread warp, dyed, protective lacquer

2nd layer: paper thread weft, cotton thread warp, dyed,

protective lacquer, hand woven, stitched

Vest Plate (VPB) 16"W x 27"L x 2"D

1st layer: paper thread weft, cotton thread warp, dyed, protective lacquer

2nd layer: paper thread weft, cotton thread warp, dyed,

protective lacquer, hand woven, stitched

Vest Plate (VPC) 16"W x 27"L x 2"D

1st layer: paper thread weft, cotton thread warp, dyed, protective lacquer

2nd layer: paper thread weft, cotton thread warp, dyed,

protective lacquer, hand woven, stitched

Vest Plate (VPS) 16"W x 27"L x 2"D

1st layer: paper thread weft, cotton thread warp, dyed, protective lacquer

2nd layer: paper thread weft, cotton thread warp, dyed,

protective lacquer, hand woven, stitched

Vest Plate (VPT) 16"W x 27"L x 2"D

1st layer: paper thread weft, cotton thread warp, dyed, protective lacquer

2nd layer: paper thread weft, cotton thread warp, dyed,

protective lacquer, hand woven, stitched
Art Education
2000 Bachelor of Fine Arts, The School of the Art Institute of Chicago
Exhibitions
2000 Visions, Spectrum of Solutions, A.T. Kearney Corp. Chicago, IL
The School of the Art Institute of Chicago Exhibition, Chicago, IL
2001 Fine Fiber: Art for the 21st Century, Hinsdale Arts Gallery, Hindale, IL
Import/Export, Womanmade Gallery, Chicago, IL
Paperwork - Work in Handmade Paper, The Fine Line Gallery, St. Charles, IL
The Art Around Us, Barrington Area Arts Council Gallery, Barrington, IL
A Celebration of Creativity, Crossman Gallery, University of Wisconsin, Whitewater, WI
Nothing New - Fiber Art from Recycled Materials, Minneapolis College of Art and Design, Minneapolis, MN
Cross Connections, T.L.D. Gallery, Westmont, IL
The Feel of Fiber, Barrington Area Arts Council Gallery, Barrington, IL
2002 Solo show: Indigo and Parchment, Touching Stone Gallery, Santa Fe, NM
New Ideas in Rugs & Baskets, Hinsdale Arts Gallery, Hinsdale, IL
Face of Fiber, Barrington Area Arts Council Gallery, Barrington, IL
2003 Solo show: Color Corps I, Touching Stone Gallery, Santa Fe, NM
Solo show: Focus on Shifu. University Club of Chicago Gallery, Chicago, IL
Fiber Invitational, Shaw Cramer Gallery, Marthaís Vineyard, MA
Fiber Directions, Wichita Center for the Arts, Wichita, KS
Facets of Fibers, Barrington Area Arts Gallery, Barrington, IL
Fiber Focus, Art St. Louis, MO
2004 Solo Show: Tracing the Lifeline, Touching Stone Gallery, Santa Fe, NM
Cambridge National Prize Show, Kathryn Schultz & University Place Galleries, Cambridge, MA
New Works/Nine States, Art St. Louis, MO
Publications
Fiberarts Design Book 7, Spring 2004
Fiberarts, March/April 2004
University Club of Chicago, Aug 2003, Oct 2003
The Marthaís Vineyard Times, ART, Aug 21, 2003
Vineyard Gazette, Marthaís Vineyard, Aug 8, 2003
Pasatiempo, Arts, Entertainment & Culture, Aug 2003, Sept 2002
Santa Fean, August, 2004
-----------------------------------------------------------------------------------------------------------------------------------------------------